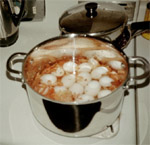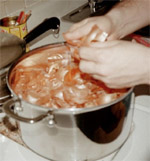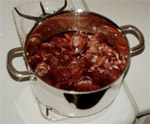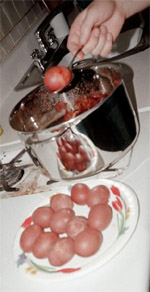 Prepare the water by adding the onion skins, vinegar, salt and eggs. You might add additional skins to cover the eggs thoroughly. Boil the eggs together with the vinegar, salt, and onion skins for app. 10-15 minutes on medium heat. Remove pot from heat, allow eggs to cool in the onion/vinegar mixture. After eggs are removed from mixture, they may be "polished" with bacon fat or shortening for shine.
Kraszanki are also made with other plant-based materials, such as beet skins, but many are surprised to find that onion skins give greater depth of color than do beets.
The eggs are delicious served with salt, butter, and fresh horseradish. An egg blessed at Swiecone might also be placed in the center of the special blessed ring of Kielbasa.
Swieconka table set with [clockwise from top left] Kraszanki, blessed Polish rye bread, Kielbasa, butter lamb with Resurrection banner, horseradish with beet dye, and Zurek (white borscht soup) .