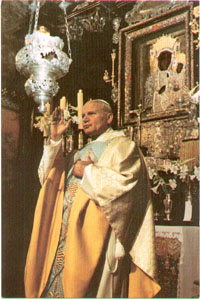 "The mystery of Jesus, who was born in Bethlehem to the Virgin Mary, has for a thousand years shaped the soul of our people in their history, culture, and traditions. Our identity is bound up with the mystery of Christmas...During the Christmas season...hymns of joy rise up from every region, not only during Midnight Mass but also in every home, as beautifully decorated Christmas trees twinkle and shine throughout our country. All this is not simply folklore but it bears witness to our identity as Poles and testifies to how, with Him, our nation is reborn on this night each year, generation after generation. As Wyspianski wrote, 'This is a sacred night for us.'"
Karol Wojtyla -- Pope John Paul II
Christmas 1976
"The more you are aware of your identity and the Christian culture out of which your ancestors grew, the more you will be able to serve your country and the common good. From these roots the full personality of the individual, the community, and the nation arise."
Pope John Paul II
1987 Address to Detroit Polonia
Back to Polish Christmas